So more waiting until beta #2, which was on Monday, October 8, 2007. I didn't have much hope for a higher number. A normally developing pregnancy is supposed to have beta HcG values that double every 2 days or so. I wasn't expecting much.
Surprisingly, my beta rose to 103, which was right on schedule. Things were looking up. However, the nurse, comparing my number to where a pregnancy should be at 17 days past ovulation, suggested that it could be an
ectopic pregnancy
. I was freaking out. I was under the impression that the chance of having an ectopic after IVF was far lower than with a natural pregnancy, because the embryo was placed directly into the uterus as opposed to the fertilized egg needing to travel through the fallopian tubes first. I was astounded when the nurse told me that the chances were about the same.
Then I started to wonder about the pain I had been having on my left side. Could that be an ectopic pregnancy in my left tube? I was freaking out even more.
I had to return on Friday, October 12 for beta #3. Four more days of waiting and I couldn't take not knowing anymore. After being so aware of everything that went on throughout the IVF process, no knowing what was happening inside my own body was driving me insane.
Beta #3 was 893. Unbelieveable. I was pregnant. When the nurse called, all I could say in response was 'Oh my god, oh my god, oh my god, oh my god'. I must have sounded like a complete idiot. That one little blastocyst was holding on. I was in shock.
My instructions were to continue with the PIO shots and return on Wednesday, October 24 for an ultrasound. By then, we should be able to see if there was a heartbeat. I couldn't believe I had to wait again. My husband was trying not to get too excited. I was trying to stay grounded.
Still, I couldn't help but POAS (pee on a stick). For the first time in my life, what I saw before me was a BFP (big fat positive). I ran out and bought a digital pregnancy test. There's nothing better than seeing the digital display say 'pregnant'.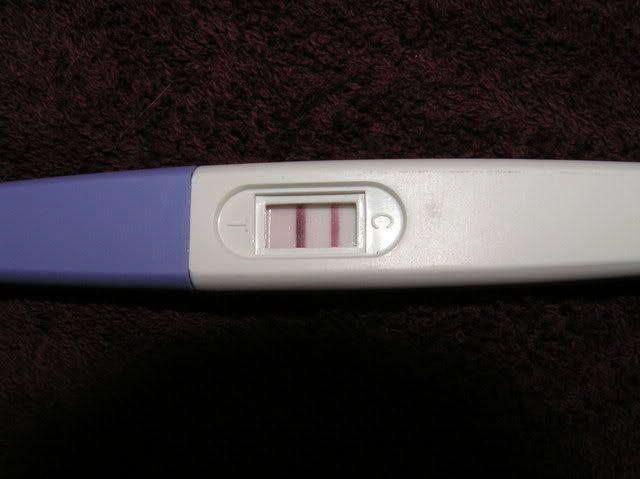 It seemed like the 24th would never arrive.